Sonoma State University, a public comprehensive university and part of the 23-campus California State University system, was founded in 1961. The main campus is located east of Rohnert Park, and north of Cotati, California, approximately 10 miles south of Santa Rosa and 50 miles north of San Francisco It enrolls 9,300 students, and its campus of 269 acres is in the middle of Sonoma County's wine country. The university is one of the smallest of the 23 CSU campuses in California. Sonoma State offers 92 Bachelor's degrees, 19 Master's degrees, and 11 teaching credentials. The Jeane and Charles Schutz Information Center is named after the Peanuts creator Charles Schultz and his wife. It holds one of the largest libraries in the CSU system in the state of California.
Tech Trek Camp is one week during the summer in which 90 soon-to-be 8th grade girls from across northern California will stay at Sonoma State. This week of academic residential camp features hands on activities in science, technology, engineering, and math (STEM). Campers will make new friends, live in the dorms and experience college dining. Each day is spent in Core Classes which offer a variety of lessons ranging from dissecting frogs and eyeballs, to extracting DNA, and exploring chemical reactions. The girls design rollercoasters, mouse trap cars, and bridges, and explore the forces of flight, developing engineering contraptions that fly.
Days are filled with field trips and workshops. Evenings are packed with more hands-on activities, build-it night, game night, star gazing, and a very popular Professional Women's Evening, where women in STEM-related careers share their experiences with the campers. The girls have an opportunity to ask questions and learn about a range of careers.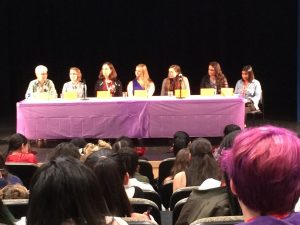 Here are a few quotes from our campers.
"(Tech Trek) has ignited something in me for astronomy… the vibes in the room caught me."
"Biology has opened my eyes to a second world."
"This has been such an amazing experience for me! I am looking forward to being a junior counselor and I wouldn't have had this excitement if you had not given me the opportunity… I appreciate this camp more and more every day."
"At Tech Trek, I had an amazing time getting to know so many like-minded girls that also love science, math, technology, and engineering.  I felt like I had found my people!  Our experiences at Tech Trek provided us with a bond that will never be broken"
Would you like more information about Tech Trek @ Sonoma?
Contact Diane Coventry and Patsy Knight, Camp Co-Directors,
at techtrek-sonoma@aauw-ca.org   (Please include TT or Tech Trek in the subject line, and indicate your city in the text)